Avoid harsh cleansing products and implements, like a loofah, when experiencing a sunburn. A cleanser like Dove Beauty Bar is gentle to skin and can be used without an implement. Formulated with ¼ moisturizing cream, Dove Beauty Bar gently but effectively cleanses and cares for skin, leaving it soft, smooth and radiant.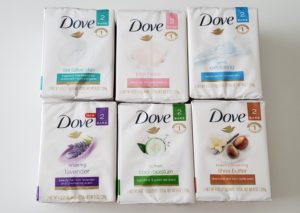 I was very excited to try these out because I only use shower gel. it's been 5 years since I actually have used a bar of soap. I have sensitive skin so I was a little skeptical at first before trying one to the bars out but I was happy to see that my skin did not have any reaction to the soap. All six  Dove bars have a gentle scent and a gather too. I do recommend trying them out if you lot Dove products or if you have been using shower gel.
You can find all Dove products at any retail store near you.